Many studies have been conducted and theories propagated regarding the advisability of wine drinking by pregnant women because of the possible adverse effects of alcohol, but Subhash Arora reaffirms that a glass of red wine, 3-4 times a week is medically acceptable.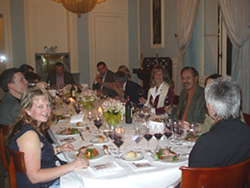 Dinner at Pichon Longville. Heidi Jaksland Kvernmo sitting front left
During the En Primeur week in Bordeaux last week, the subject of wine for pregnant women came up at a small, private dinner hosted by Christian Seely, President of Chateau Pichon Longueville. One of the journalists from Norway, Heidi Jaksland Kvernmo was not drinking any wine.
There are few wine lovers who would resist the '88 or '89 chateau wines from this famous second growth, being served from a decanter. When I asked Heidi how she could abstain, she confided about being in the family way and that she was off wine on medical advice.
Having attended several International Wine and Health conventions organised by the Desert Foundation, in Napa, California where this is always a subject of discussion, and reading many research reports, it has been my understanding that a glass or less of red wine with medium alcohol (12%), 3 or 4 times a week is acceptable by the enlightened fraternity based, on scientific research.
The latest study that put to rest any doubts, came from Denmark where doctors and researchers gave a clean chit to pregnant women having a glass (unit) of wine a day, up to 4 times a week. The wine unit is generally defined as 125 ml(6 glasses to a bottle) of wine containing 12% alcohol.
Research in Denmark on wine and health is well regarded. It is not a wine producing nation and the research grants are not usually linked with any wine-related organisation either. The study and advice to pregnant women is therefore relevant.
Coincidentally, the ten guests at the table included a doctor from Denmark. 'Let us ask Peter. He is a doctor from Denmark,' said Heidi. Endorsing my comments Dr. Peter Dorte Pontoppidan emphasized, however, that during pregnancy, it is important to stay within the glass-a-day limit, and studies have in fact confirmed it.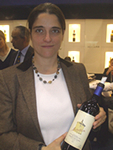 Priscilla Incisa of Tenuta San Guido
He added what is advised by many doctors for the attention of pathological sceptics, 'look at the Italians. It is generally known that the women there drink a glass or two during the week during pregnancy and they have perfectly normal and healthy children. If it is under 3-4 glasses a week, it is quite acceptable and advisable by me as a doctor.'
I wonder if Heidi would change her mind after dinner that evening that ended with a glass of port from the 1963 vintage of Quinta de Noval, brought out by Christian Seely as a surprise.
On to Italy
During Vinitaly that followed the Bordeaux trip, I met my friend Priscilla Incisa at Tenuta San Guido stand. The international respect her family's top rated Sassicaia commands, could make her the First Daughter of the Italian wine families (with due apologies to the Antinori and Gaja daughters, Alessia, Gaia et al!).
Priscilla disclosed to me during the tasting of Sassicaia 2005 that she was expecting. Carrying on my curiosity from that evening in Bordeaux, I asked if she was drinking wine during her pregnancy. 'Of course, I take an occasional glass of red wine 2-3 times a week!' she confirmed.
Priscilla, who already has a 2-year old child, laughed softly and told me that she drank wine in moderation during her first pregnancy too and 'I can assure you my son is very healthy,' she added with a twinkle in her eyes. 'Of course, my advice to these women would be to drink Sassicaia.'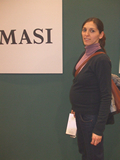 Francesca Casitti
Born with a silver spoon, she does not need to worry about the cost of a Sassicaia. Not many a woman may be able to afford the first-ever and top quality Super Tuscan red, with 85% Cabernet Sauvignon and 15% Cabernet Franc. The 'other' wine from San Guido labelled Guidalberto (often incorrectly referred to as the second wine; it has a different blend, 45% Merlot, 45% Sauvignon and balance 10% Sangiovese) may be more affordable. The 2006 vintage of this softer wine made it too early to drink now but had all the trappings of the love and care which San Guido showers on their wines.
Priscilla also confirmed to me that most of her friends stick to the regimen of a glass 2-3 times a week, max.
I asked a few other pregnant women at the show at random, including Francesca Casitti who, with her husband Gherardo, owns a small hotel and restaurant in Bologna. She endorsed Priscilla's views when she commented, 'I like to have a glass or half of red wine when I am out with my husband a couple of times during the week.'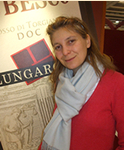 Chiara Lungarotti of Lungarotti, Targiano
Chiara Lungarotti, part owner of the Umbrian winery Lungarotti is not pregnant but she was- last year. Confirming that she did take an occasional glass of wine as a part of meal, she was emotional talking about it. 'Drinking in moderation is the key to responsible drinking. It is stupid to drink too much wine anytime anyway and is equally childish not to drink while pregnant,' suggesting that a proper balance is required and one must drink in moderation during pregnancy.
'All my friends believe the same,' she added. 'They drink half a glass or so occasionally. There may be some week when they do not take any wine at all'.
But all the women I talked to confirmed that none of them or their friends drank whisky or other hard liquor during pregnancy.
So it would appear logical that drinking a glass or half with meals during pregnancy, 3-4 times a week, would not create a medical problem; the doctor's advice would eventually prevail though.
Subhash Arora
April 6, 2008