If one goes by the wines presented by Wines from New Zealand Ltd, Wellington, day before yesterday at the residence of H.E. Caroline McDonald, High Commissioner of New Zealand, they shall make a dent in the existing wine market in India, especially white Chardonnay and Sauvignon Blanc.
The Director of the company, Mr. Prashanta Mukherjee who has come from New Zealand to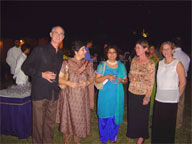 market these wines, had more than forty guests ask for more as the evening proceeded from the beautifully manicured gardens of the charming and hospitable High Commissioner to the dining area where a sit-down dinner had been arranged for the guests that included a few members of the Delhi Wine Club, Senior Managers from the hospitality industry and importers.
Excluding Auckland, all the other five wine-producing regions were represented. These included Gisborne in the North East, Hawkes Bay, Marlborough, Nelson and Waikato. Lincoln Wine Maker Series Chardonnay from Gisborne was dry, medium body, crisp and clean, fruity wine that tasted very similar to Chablis. The second aperitif was a Seifried Old Coach Road Sauvignon Blanc 2002. Fuller body, straw colour with greenish hue, aromatic, less dry with delicious fruit flavours of lime and green apples, a bit on the high acidity side. Both these wines would go very well with the Indian palate once it has graduated from the initial love for sweet and semi-sweet wines.
Two Sauvignons accompanied dinner, Linden Estate 2002 from Hawkes Bay and Lake Chalice 2003 from Marlborough. The later was young, light-bodied, easy drinking wine while Hawkes Bay with an International Wine and Spirit Bronze in the pocket was not as aromatic but elegant. While guest were divided in their preference, I felt that the Hawkes Bay would be more suitable for chicken tikkas or tandoori while the Marlborough would be excellent for grilled fish and fish tikkas.
The Matua Valley Hawkes Bay Merlot was deep purple colour, with spicy fruit flavours and soft tannins, that felt a bit out of place in the tasting, waiting to be 'cooled' a little and looking for a dance partner in some mutton kebabs or lamb chops or at least chicken made in red wine or tomato sauce. Trying to match Indian food with New Zealand wines might be a noble thought but not necessarily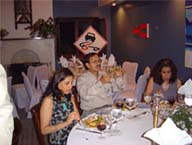 the easiest task. The Sauvignon Blanc that would have enhanced the taste of a fish dish made in white sauce had to settle for aloo-gobhi and the Merlot that would have shone with a New Zealand rack of lamb just was not ready for the daal. To this extent the organizers lost out on the stronger impressions these wines could have made on the receptive palates.

All the same, the cordial hospitality of the hosts and the bonhomie at the dinner table with some extra help from the generous portion of wines being served made the guests leave on a very happy note. Her Excellency was gracious enough even to organize for the guests tea and coffee, an item not on the menu but requested by some, nevertheless. A word of caution to the wine exporters is in order, though. New Zealand wines, especially the Sauvignon Blanc and Pinot Noir are gaining in quality and popularity at a fast pace along with the prices that are going northwards at even faster pace. Indian market is very price sensitive and may pose a pricing challenge at the entry levels.

Subhash Arora