Or should one say California wines and foods.since the products displayed at The Fall Festival of U.S. Wines & Food organized by the Department of Agricultural Affairs of the U. S. Embassy in India last Saturday at the Maurya Sheraton seemed to be from California. Almonds, pistachios, grapes, pears and prunes; wines from Napa, Sonoma, Mendocino, Central Valley etc. were on display and could be tasted by a select gathering that included professionals, trade and members of the Delhi Wine Club. There were four exhibitors of wines.
1. ERNEST & JULIO GALLO The biggest wine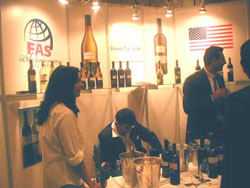 company in the world was the biggest and most visible participant in Kamal Mahal and later in the evening at the Reception in Nandiya Garden. On display was the complete Indian range. Notable among the absentees were their Sonoma Estate wines that are their premium quality wines winning international awards like the clinking coins in a slot machine.
Carlo Rossi is a bulk-wine label owned by Gallo and sold in millions in the US because of very low price. Naturally, what is good for Americans should be good for us too, especially since we have grown up drinking the famous brand of table wines called 'French' supplied in unlimited quantity by the number of free-lancing 'king' distributors. It is surprising this wine has not yet made a sizeable dent into this mass market. Sierra Valley is their latest addition to the budget-wine range. This is a popular everyday drinking varietal. At a slightly higher end is Turning Leaf offering slightly better varietals, especially Zinfandel and Cabernet Sauvignon. You must have tasted this wine on a visit to the US. It is already available at several restaurants in Delhi.
Sonoma Selection displayed included a Cabernet Sauvignon 1999 that we had recently tasted at the wine tasting Lunch at Dumpukht. Chardonnay 2000 was the other selection. Their best offering was the Single Vineyard Laguna Ranch Chardonnay 2000 that had been the most popular white at Dumpukht. The Frei Ranch Cabernet Sauvignon 1997 was undoubtedly the Wine of the Show. Exhibiting the wine were also the Distributors, Radico Khaitan Ltd., extremely liberal in sharing their wine with the visitors.
2. SAN FRANCISCO WINE CELLARS: It is a San Jose-based wine distribution company owned by an NRI, Mr. Dhruv Gupta. He represents a few boutique wineries around Napa, Sonoma, Mendocino and the Central Valley in California. Wines selected for India were all budget wines keeping in view the low-end mass market for India. While most of the wines were quite ordinary, the Moscato sweet wine was delicious and if priced right should be able to get a share of this limited market.
3. BROWN-FORMAN WINES: Producers of Jack Daniels whiskey and Southern Comfort also own Fetzer Vineyards in Redwood Valley in Mendocino County. Fetzer is known for some value-for-money wines especially their Barrel-Select Pinot Noir. This was not on display, though. What was on offer, however, were Chardonnay that was too warm to taste properly, Merlot and Zinfandel etc. It is a widely held view by most quality wine producers that the business of wine and liquor cannot be handled together as one needs to be passionate about wine to be able to improve quality constantly. The exhibitors certainly gave the impression that they would rather be selling liquor as that would perhaps add more to the immediate bottom line of the company. It wouldn't hurt the company to realize that wine tastings are the best, if not the only way to promote the product as well as the brand, since most of the conventional methods are banned for wine.
4. CONSTELLATION WINES: This Delhi based Distribution House owned by the French businessman, Francis Waziarcg represents several wine companies and is also importing wines from many countries including the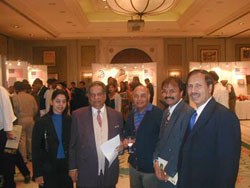 USA. Paul Masson, the most successful jug wine that still uses Chablis to refer to its white wine and takes pride in publicizing that the wine can remain fresh for weeks after opening (usually, wine left in a bottle starts going off within a few hours and the bottle should be finished within a day or two). Perhaps the cheapest alcohol fix available in the U.S. market is available now in India too. Arbor Mist is another of those fun wines that are great for people about to graduate to the level of being a novice. But if people in 80 countries enjoy the stuff why not us, you may rightly ask? It seems like a miracle to handle a potpourri of wines ranging from the jug wines to good champagnes. The Counselor for Agicultural Affairs, Mr. Chad Russell and his team organized the Event very well. For any more info, you may contact the exhibitors through Santosh.Singh@usda.gov

Subhash Arora