The biannual, biggest wine Fair in France,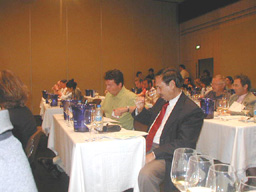 VinExpo2003 held in Bordeaux from 22-26 June should bring cheers to the Indian importers and consumers. Two things were very clear- that there is general glut of wine in the world market with increasing competition and that the French wines have a distinct downward price trend. This should definitely reduce the costs of imports for the Indian market.
One major reason for French wines being in trouble is that the American importers and producers who come in big contingents stayed away because of the French opposition to the U.S.-Iraq war. Memories of American wine shops throwing away good French wines in the gutters for patriotic reasons still persist. Even the world acclaimed wine guru, Robert Parker who is very influential in determining wine prices was absent from the 2002 Bordeaux tasting earlier in April. His mere absence helped depress prices for the earlier prized vintages. A Chateaux Margaux that costed $200 in 2000 has been selling for about $60.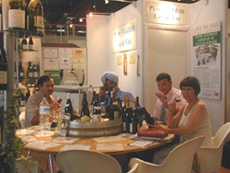 Unabated planting has created a glut of grapes in Australia and California and the Australians have been trying to capture market share by aggressively discounting prices. There was such a glut of French wine last year that about 25 million gallons of Beaujolais had to be converted to industrial alcohol. The increase in competition can be gauged from the fact that 47 countries participated this year compared to 42 in 2001. Number of attendees went down from 53000 to 48000 in the same period. This spelt a better experience for those attending the Fair. The fair was more interactive, there were more tastings and seminars organised by groups, regions, consortia, associations and countries, including a seminar on French Paradox, wine and health connection. Fine international cuisine was on offer.
Indian participation, though miniscule has been increasing in the recent past. With Promosalon, the Indian reps. being quite active the Indian interest is bound to increase. Who knows, Indian curries, kebabs and wines may be available to the international visitors sooner than one would expect.