Short and sweet. usually not very complimentary words to describe fine wine. But well applicable to the fine Tasting conducted by International Wine Academy of Roma, of fine wines from Antinori. It was a well-organized event by the Italian Trade Commission and Italian Cultural Center in conjunction with the IWAR whose Director Valentina Morriconi was present along with their New Zealander taster Nick Dumergue to conduct wine tasting of six wines including one white, Chardonnay. The tasting was conducted with dexterity, in a professional style with a 'balance' between Nick and the participants. In the assigned time of 2 hours one could taste all the six wines assimilating their various characteristicsl. Nick was not only lucid in his explanation, he also knew how much to allow for the right interaction during the limited time.
Antinori family has been in the wine business since 1385.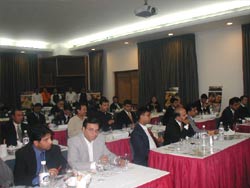 Over 26 generations have been making wines in Tuscany and Umbria. But the family earned international fame in 1948 when it introduced the now-famous Super Tuscan wine, Sassicaia using Cabernet Sauvignon vines from Chateau Lafite-Rothschild and blending these grapes with Sangiovese. Frescobaldi had used Cabernet Sauvignon for Chianti for over a century with no earth- shaking results.
Highly encouraged by the success of this experiment, Piero Antinori, head of Antinori introduced Tignanello with 20 % Cabernet in
Sangiovese base and another popular Super Tuscan was born with a Vino di Tavola label- Italian classification laws would not allow the DOC status to such wines with international grapes. Again the success of this wine due to high quality standards resulted in the company improving upon the winemaking techniques to make 100% Sangiovese grape based wines including Chianti, Brunello di Montalcino and Vino Nobile de Montepulciano.
One could taste these wines at this Tasting. Tignanello IGT Toscana 2000, Badia a Passiagnano Chianti Classico Riserva1999 (100% Sangiovese), Pian delle Vigne Brunello di Montalcino DOCG 1998 and Nobile di Montepulciano DOCG 1999, La Braccesca (80% Sangiovese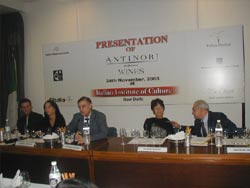 with 20% complementary grapes like Canaiolo, Colorino) were four of such wines. The Grand Finale was the Tasting of Solaia 2000, which is a reverse combination of grapes, i.e., it contains majority of Cabernet Sauvignon (75%) with 5% Cabernet Franc and 20% Sangiovese.
Barring the Chardonnay which was ordinary but very drinkable everyday wine as an aperitif, all the others had a strong personality of their own. Nobile, which was medium-body wine was a couple of notches lower in terms of complexity and balance. Solaial was very close to a Bordeaux wine with complex and long after- taste. Even Brunello.
which was still closed somewhat, was well structured and had ripe tannins. A real and rare treat this tasting was. And for once, the audience was quite knowledgeable and added positively to the tasting.
Earlier, H.E. Benedetto Amari, the Ambassador of Italy welcomed the participants and the Italian Trade Commissioner, Guglielmo Galli assured those present that more of such programmes would be planned in future. Director of the Center, Patrizia Raveggi spoke from the heart when she said that wine IS the Culture. The charming Director of the Academy, Valentina Morriconi briefly talked about the background and the kind of courses offered by the Academy.
All in all, a very successful programme that will surely help promote Italian wines. Complimenti.

Subhash Arora