One of the Indian participants in the recently concluded IFOWS was this winery from Nashik, which launched its viniferous wine varietals last month in Mumbai.
A prime exporter of wine grapes for several years, the growers got into wine making this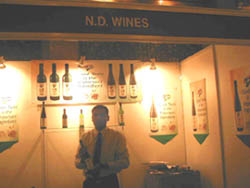 year with Chenin Blanc, Sauvignon Blanc and Sauvignon Blanc Reserve as white wines and Shiraz, Cabernet Sauvignon and Cabernet Sauvignon Reserve in their portfolio of red wines. With 700 acres of grape cultivating land under their belt, the company owned by Mr. Ashok Gaekwad has ambitious growth plans.

Wines are priced between Rs.450 to Rs. 650 per bottle. Half bottles are also suitably available for the Indian market. For the quality of wine ,the prices do
seem to be on the higher side. A company spokesman informed us that 150,000 bottles had been produced in their first harvest this year and in a short span of 2 months 50,000 bottles have been sold in Maharashtra alone. The numbers may seem high for a first year production, but they do indicate the shape of things to come in wine consumption in India. Five wineries came up in Nashik alone in 2003.

One hopes that with the grape growing experience, even though in the table grape variety that is not the same as wine grape variety, the producers will lay emphasis on quality of grapes and the wines. Winery has engaged the services of Mr. Jean- Manuel Jacquinot, a winemaker with over 15 years of experience, especially in making Champagne.