When you think of Mozart, you associate him with beautiful classical music. OK! Maybe chocolates too if you are in Vienna. But Mozart and Mousseux ! Not many of the 100- plus guests of the Austrian Trade Commissions, Dr. Sepp Dabringer collected at his residence knew about it until they were jolted by four pops, loud and crisp as a bullet. And along with confetti came Mozart Sekt, and an Austrian Sparkling Brut and Extra-Brut was officially launched in Delhi.
Herr Gerhard Wurzinger, partner of Kleinoscheg, the wine producing company was present at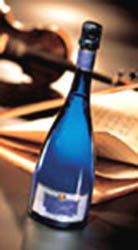 the launch, proudly displaying the products and explaining to the guests that though 'Mozart' had been licensed to many chocolate manufactures in Austria, his company was the only one with the exclusive right to manufacture Sparkling wine with this brand name.
Mozart Sparkling comes in a beautiful, blue and thick bottle with an inverted Y-shape, chosen to protect it against light. Brut is the dry version with a residual sugar level of 10 gm./liter while the Extra Brut is very dry with 5 grm /liter sugar content. Human palate cannot normally register the sweet sensation under 4gms.
This wine was quite fizzy. Though the more economical tank fermentation method has been used for secondary fermentation unlike in Champagne, it has plenty of small bubbles that last fairly long in the glass. The first thing that hits you is the high acidity and citrus flavours. Through chardonnay grape (called morillon in Austria) has been used, it has distinct flavours of lime, lemon and green apples. This is perhaps due to the soil in Graz in West Styria where the winery is located that makes its wine dry and crisp. After a couple of sips you get used to the tarty taste that has made wines from this region quite popular and unique. But if you like peachy, biscuity and buttery flavours of Champagne in your bubbly, you may be disappointed. Judging from the comments of those present, it was quite palatable to most guests. It would pair very well with grilled fish or chicken made in a light, white sauce. Brut may go better with kebabs etc and as an aperitif.
The importers, M/s Diplomatic Impex informed me that the sales price has not been worked out yet. If will be interesting to watch how they price it and how it competes with Italian Prosecco, Spanish Cava, Chilean Sparkling with which it is comparable, or the more reasonably priced but palatable Indian Sula Brut and Marquis de Pompadour.

Subhash Arora