When you think of champagne or a sparkling wine, you think white or pink. Red sparkling wine is a rarity. One got a taste of it last Saturday at the newlyinaugurated Italian Cultural Center , adjacent tothe Italian Embassy.The WineTasting Eveningwas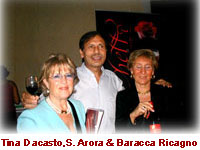 organized by the Indo-Italian Chamber of Commerce and Industry, North IndiaChapter. Baracca Ricagno Gianfranca, wife of the owner of Ca'dei Mandorli ( literally House of Almond Trees) near Asti in Piedmont and the Export Director, Tina Olmo Dacasto presented five of their wines including Brachetto d'Acqui, the red semi-sparkling wine from Asti region in Piedmont, the wine producing region Northwest of Italy famous, not only for its Barolos and Barbarescos but also wines made from Dolcetto and Barbera grapes..
The red sparkling wine, Brachetto d'Acqui that was offered as an apéritif, is made from early ripening red Brachetto grapes grown in a region of 400 hectare, near Asti. Historically, it has been around for over 2000 years, has aphrodisiac qualities and was supposedly the favourite of Cleopatra. The wine was very sweet, low in alcohol and fruity with just a few bubbles -the wine is bottled under low pressure. Surely, serving in saucer type of glasses could be a reason. It's a wine meant for young people and those with taste buds newly introduced to wine. It would go well with desserts like flaky pastries, cakes and fruits like peaches and strawberries but otherwise too sweet to be of any interest to serious wine drinkers.
The first wine to be presented after the aperitif and a brief audio-visual presentation of Brachetto by Sig. Nataliono Dio, Chairman of the Chamber, was Dolcetto d'Acqui 2001. It is a DOC wine (Second highest government standard in Italian wines) made from 100% Dolcetto grapes with an Acqui (name of the village and its surroundings as defined) Apellation, produced in limited quantities. It was quite dry, soft and fruity with a flavour of almonds but with a rather short finish. It would make a reasonable daily drinking wine.
This was followed by Barbera d'Asti 1999, also a DOC wine. The ruby red colourwine made from heavily grown Barbera grapes in Piedmont had cherry and plum flavour lasting reasonably well on the palate. Barbera grapes made with lower yield can age well with good cellaring and this was amply demonstrated by the next presentation, Barbera d'Asti , La Bellalda Oro 1999,DOC which is 'Superiore' wine, meaning that it has 1% higher alcohol content than the regular Barbera. The higher level of 13.5% is perhaps achieved by selecting the grapes which have been left to ripen on the vines a few days longer thus increasing the sugar level. It also tasted smoother and softer due to aging in the Slavonic oak barrels. The wine had balanced tannins and acidity with a prolonged after-taste. Incidentally, this wine was universally liked as the best wine.
Brachetto was the fourth wine tasted (second time) followed by the other dessert wine, Moscato d'Asti 2001. Made from white Moscato grapes it was very perfumed sweet wine with a flavour of mint and honey. I felt it should have been slightly more chilled to get it to the desired temp. of 8-10 degrees to get the full flavour and should have preceded the Brachetto. In any case, both the dessert wines would be too sweet as an apéritifs for the Indian palate. If priced right it would find takers in newly initiated and for celebratory occasions. Both these wines are DOCG ( Denominazione di Origine Controllata e Garantata), the highest defined government standard for Italian wines.
One should commend the Indo-Italian Chamber for organizing the Event attended by hoteliers, restaurateurs, diplomats, importers and wine lovers. Italy produces a wide variety of wines ranging from inexpensive yet palatable wines to complex and expensive wines that can age for 30 years or more and are in much demand in Europe and the USA. They will do well to organize more such events on a larger scale to help Italy get its due share in the expanding Indian market.