Today's newspapers carried a report about the famous Hollywood actress Catherine Zeta Jones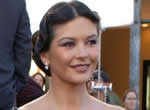 insuring her face for US $ 1 mill. Very pretty!! But I don't recollect any article a few months back when Somerfield, a 600-store UK supermarket chain insured the taste buds (tongue) and the nose of its senior wine buyer, Angela Mount for 10 Million BP (over $18Million)! Nose is important since the olfactory process plays a definite role in tasting and appreciating the wine and the taste buds are crucial for studying the balance between fruit, acids and tannins.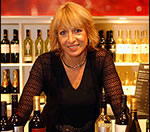 The 41 year old wine writer and expert has been selecting most of the 390 wines they sell, 194 out of which won a medal at the 2002 International Wine Challenge. She samples thousands of wines for quality control and selection of unique wines, especially those retailing for under 5 pounds.
Film stars, singers and other celebrities have often insured their body parts that are key to their special skills. Marlene Dietrich insured her singing voice for $1m. Betty Grable had 'million dollar legs' for the same reason. Dancer Fred Astair insured each of his legs for $75000. Dolly Parton has her 42-inch chest insured for $600,000. This is the first instance of a wine taster insuring for such an heavy amount.