It is not well known that Canada has come up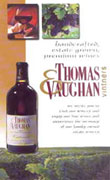 as a quality wine producer in the last 10 years. Though it has been producing wines since 1861, mainly with Labrusca grapes, Canada shifted to the European varieties later. But the quality took a quantum jump only recently with the tightening of the quality standards by legislatively introducing VQA, Vintners Quality Alliance in 1988, and following them very strictly. Secondly, their Icewines have been winning medals and making a mark in the world market, especially after the EU lifted a ban on the import of their wines to the EU in 2001. Canada is one of the three producers of icewine, others being Germany and Austria. Due to colder temperatures reached here, the yields are more stable and acid is better balanced. They are also being noticed for their quality of Pinot Noirs, Rieslings and wines from their French-American hybrid variety, Vidal Blanc and Baco
Noir. Thomas and Vaughan Vintners of Ontario presented more than 5 types of their wine as also the icewine through their Rep., Mr. Ash Mathur at a wine tasting Reception hosted by the Canadian Senior Commercial Counselor, Mr. Benoit Prefontaine at his residence, last Thursday evening, on 12th December, 2002.
Out of all the wines (served with cheese and canapés) presented, two white wines were noteworthy. Vidal Blanc 2000 was a sweet white wine, slightly low in acid but rather sweet. I would personally rate it as a dessert wine but a lot of guests new to wine drinking just loved the taste. The second wine, a Riesling 2000 was very dry, crisp, fresh and fruity with a wonderful aroma. The presence of 'citrus' flavour made it very palatable as an aperitif. Another wine that charmed the guests was a Pinot Noir 1999, which with its spicy cherry-like flavour and good after-taste was the favourite red wine.

Star of the show was certainly the Vidal Icewine 1999. Perfectly chilled at the desired temperature of 5-7 deg. C, the tropical flavour of mangoes, litchis, apricots and peaches which are all too familiar and favourites with the Indian palate were present in plenty. The acid was well balanced. It was also perfectly matched with the cheese being served. The aftertaste just lingered on. This wine would be very popular with fruit-based desserts, cakes and Indian desserts with lower sugar, like rasgullas, rasmalai etc. Of course, it can also be enjoyed on its own, like a liqueur or cognac. Properly sealed, the opened bottle can also be stored in the refrigerator for a few weeks. Distance and freight may be initial obstacles (we are not even talking about the custom duties that HAVE to come
down before wine can be affordable). Coupled with the lack of knowledge about the recent strides that Canada has made, there will be initial resistance form the importers and consumers towards Canadian wines. But with aggressive marketing we shall see a lot of Icewine, Riesling, Merlotand possibly Pinot Noir imported from Canada. More details about the wines tasted may be found on www.thomasandvaughan.com . You are welcome to visit them next time you are in Toronto. Details on VQA in Ontario can be viewed on www.wineroute.com The Event was managed by Mr. Ram Gupta, Senior Trade Advisor of the High Commission, who did an excellent job of organizing it at a vary short notice after discussing with Mr. Mathur and us. The High Commission will need to organize several such events to create brand Canada, by no means an easy task in a country where French is still the king.
Subhash Arora