Marchesi di Barolo came. So did Marchesi di Frescobaldi. Big names like Antinori, Gaja and Masi were there too. So were other members of the Grandi Marchi, like Lungarotti, Folonari and Mastroberardino. Existing established importers like Brindco, Sonarys and Sovereign participated. Amfora wines who has taken the plunge in the import of wines from fine wineries like Felsina, Elena Walch, St. Michael Eppan, also participated.
Most wine producing regions were represented at the Show- from Alto Adige to Sicilia, Piedmont to Puglia. Each exhibitor had been given a stand to show his wares.
The event on January 15 th in Hotel Grand Maratha, Mumbai was a great success. There were over 150 visitors with 60 people participating at the Panorama of Italian wines seminar which was held in the morning. Over 50 attended the lunch hosted by the Grandi Marchi. Visitors were mainly from the food and beverage fraternity but also included local press and importers. Importers like Brindco, Sonarys, and Sovereign and Amfora wines took part in this 2 nd edition of Vinitaly India. Said Mr. Vittorio Mecozzi, the Italian Trade Commissioner, Mumbai, 'We are very satisfied with the response of the people-right people came. We hope the producers can make some deals.'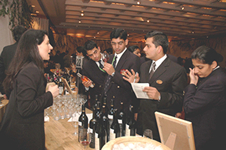 Attendance at the Delhi event of 17 th January was overwhelming. About 400 came to the walk around in the afternoon and 62 to the Grandi Marchi lunch hosted at Aangan Restaurant in Hotel Hyatt Regency where a dozen of the Grandi Marchi producers presented wines to some of the top F&B managers and press. The highlight was the enthusiastic presence of trainees -the future stalwarts of the industry, from a few top hotels.
In the evening, the walk around tasting was transformed into a cocktail event with live music, ambient lighting and a specially designed "Made in Italy " buffet and finger food sponsored by Buonitalia. Over 280 people attended, including some page 3 celebrities.
The exhibitors, numbering about 40, slightly fewer than last year, seemed extremely pleased with the turn out and quality of the visitors. "It is difficult to predict the outcome of the Show as of now but our exhibitors found the response better than they expected," said a beaming Giancarlo Lamio, the Italian Trade Commissioner who has been working diligently to promote Italian gastronomy delights since he came to Delhi 15 months ago.
The Show travelled to IFOWS at Hotel Uppal's Orchid for a day on January 18 th .
This second year of Vinitaly India has been presented by Veronafiere in conjunction with Magandeep Singh who also presented the Panorama of wines in Delhi and Mumbai. Veronafiere is the organiser of Vinitaly which celebrated its 40 th year last April. The next edition will be held at Verona on 29th March.
Subhash Arora