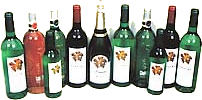 When I met Prahlad Khadangale, one of the three horticulturist co-founders of Sankalp Winery, two years ago in Vinitaly, I was very impressed with his dedication and the will to produce quality wine which these then-grape growers were about to embark upon. He assured me that the wines produced by them would be of same quality or better than Sula, the undisputed leader of wine makers in the Nasik Valley.
They have now come out with some of their wines, namely, Chenin Blanc, Zinfandel, Rose` and Sauvignon Blanc. Located in the MIDC promoted Vinchur Wine Park on the Mumbai Aurangabad highway, near Nasik, the winery claims to have reached production level of 28000 cases. It hopes to take it up to 110000 cases by 2005, a very ambitious target indeed considering the current market scenario with imported wines breathing on their neck and the rigours of wine marketing in India or exporting them.
Though the wines are being marketed in Maharashtra and not yet available in Delhi, I had an opportunity of tasting the Zin, Sauvignon and the Chenin. I reserve my comments about Zin but the other two have a very good potential especially since they have been priced at about 25% lower than Sula. Though it may be a while before Prahlad and his winery can meet his promise but with constant improvements in the grape quality and the winemaking techniques, they will certainly give Sula run for their money. In the bargain, the wine market will expand and the customer will have wider choices.
Addition of Sankalp to Sula and the more recent ND Wines is good news for the Nasik wine industry. I believe even more strongly now that Nasik Valley can become another Sancerre, Marlborough or Casablanca for the Sauvignon Blanc varietals if the producers target higher qualities.