At a well-attended function at the Italian Cultural Center, 'Riccardo', a Prosecco label from the Valdobbiadene region of North Italy was unveiled last week. Spumante IGT Brut, Spumante DOC Extra Dry and Cartizze Dry were the three sparkling wines introduced. These are in the ascending order of sweetness, i.e., Brut (driest), Extra Dry (medium sweet) and Dry (sweet).
Brut is a delicious aperitif and goes well with Indian summer as an aperitif, just to laze around with. Snacks are optional. Extra Dry could be a bit too sweet for our palate but fish and chicken with heavy sauces and food with some Indian spices could handle it well. In fact, I tried Risotto with red peppers sprinkled on top and found the combination worked. Cartizze has the sweetness but elegance and makes a great dessert wine with pastries, cakes etc., the fizz making it tingle around the palate, adding some zing to the dessert.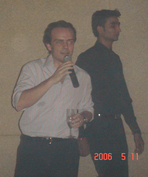 Addressing the audience that included over 30 members of the Delhi Wine Club, Mr. Raffaele Langella, Commercial Counsellor at the Italian embassy talked about the compatibility of these wines with not only Italian foods but also some Indian foods, making it a good choice for daily drinking. Ritu Dalmia's Diva cuisine complemented them well too. The usual queues and shortage of food was not visible this time as the even was held in the open space outside. The food and wines got tastier as the evening cooled off.
The unique feature of the Riccardo Prosecco is that it comes with a unique food chain Traceability feature. Their Prosecco DOC gives the discerning customer a guarantee for quality and safety. In simple terms, it means that the production steps of each bottle can be traced back to the grapes it was made from by visiting their website and entering the bottle number, lot number and vintage mentioned on the bottle, something like you find on medicinal tablets.
Prosecco is a sparkling wine made in an area which is a small stretch of 22 kms on both sides of the road connecting two small towns Conegliano and Valdobbiadene , North of Venice by using the local Prosecco grapes. Tank fermentation (Charmat Method) as the second fermentation in bulk ensures these wines are less costly to make. Though they may not have as much finesse as Champagne, they are affordable substitute for Champagne for daily drinking, especially when the heavy taxes make every wine too expensive to start with.
Riccardo is being imported by Hema Connoisseurs in India. For more info about the wine visit www.prosecco.com. or the official site of the region, www.prosecco.it
Subhash Arora