An evening celebrating the greatness of South Australia's emerging wines, writes SOURISH BHATTACHARYYA, proved the point about the heady stuff from Down Under – the wines are high drinkable, so let the classicists keep quibbling about their predictability
Ever since I've been quaffing my God-given share of the heady stuff, I've been an unwavering admirer of Australian wines. To my utter joy, I'm finding that my tribe is slowly taking over the world.
Australian wines, despite being charged by the Old World with Coca-Colanising wines by giving them an assembly-line character, are established market leaders in Britain – which is a considerable victory for a 200-year-old wine industry, given the old and what seemed like almost an unshakable relationship between the Brits and their claret – and they're inching their way to the top of the US market, aided, undoubtedly, by the anti-Francophone wave that swept America in the wake of the spirited French opposition to the invasion of Iraq.
Not surprisingly, the value of wine exports from Australia has risen hundred-fold in less than two decades, catapulting the Land of Oz to the enviable No. 4 position in the worldwide wine exports market. And the three countries above have 4,000 years of wine-making experience between them!


Closer home, French supremacy is facing a serious threat, thanks to two companies with deep pockets and marketing muscle – and one of them, ironically, is French. Seagram's has ousted the B&Gs and other plonks of the world with the finer Jacob Creek wines ("Wimbledon's top drop"), which, incidentally, are gaining quite a following in the F&B community as a favoured wine by the glass. Moet-Hennessy (which is a part of the French billionaire Bernard Arnault's LVMH luxury empire), meanwhile, is busy making inroads with its Cape Mentelle and Green Line wines (besides, of course, Cloudy Bay from neighbouring New Zealand and Terrazza from Argentina). The Aussies couldn't have asked for anything better.
So it was impossible not to show up for a wine evening hosted by the Australian Trade Commission at the Henry Lawson Centre on a balmy Monday evening – I'd have been happier, though, had Sourav's boys had not been prevented by the rain gods from notching up a victory that they clearly deserved. But good wines never fail you when you're suffering from cricket blues.
The occasion also turned out to be a double celebration, for it also happened to be the birthday of two important Australians in the city – High Commissioner Penny Wensley, who has been quietly promoting her country's business agenda, and the one and only Bill Marchetti, whose cooking prowess has won him many admirers in the Delhi Wine Club.
The wines being showcased that evening had come from South Australia (capital: Adelaide). It is that country's most significant wine-making region, responsible for 42 per cent of the production in areas like the Barossa Valley, Coonawarra and McLaren Vale, recognised internationally for their impeccable quality.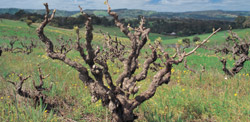 As bottle after bottle got emptied, each wine exhibited the quintessential Australian quality – easy drinkability, uncomplicated structure. Each wine was just what you and I would want to order with a meal – whether it was the Big Red Blend 2003 from Finniss River, an adventurous combination of different vintages and grapes, including Malbec, which you would associate with Argentina, from a region that started making wines only five years ago; or the less than six-month-old Cabernet Sauvignon 2004 from Kahlon Estates – it must have been a delicious moment for Mohinder Singh Kahlon, who had arrived in Australia as an illegal migrant in the late 70s and I'm sure he has given the authorities in that country many reasons to congratulating themselves for legalising him; or everyone's favourite, judging by the number of bottles that had to be opened, the Clarendon Cabernet Sauvignon 1998, poured generously by Brian Hayes, a barrister from Adelaide who was born in Mumbai and educated at St Joseph's, Darjeeling.
Remember, the best wines are also the least intimidating, because you don't have to be a Robert Parker to enjoy your meal with the wine you like. The Aussies have figured this out, which explains why they're now a wine-making superpower.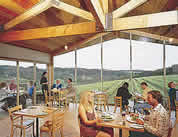 The French love to attack the Australians for letting technology manipulate what's essentially an agricultural product. The Australians, to the horror of the French, don't let hidebound rules stop them from blessing marriages (cabernet sauvignon and shiraz, for instance) that would shock the undies out of the stodgy defenders of French classicism. Who cares? As long as the wines taste good. The best wines, after all, are the ones that agree with your tastebuds.
True, Australian wines don't offer the rainbow of after-tastes and the complexities that their French competition serves, but they are more predictable – and I like my wines that way. If I'm paying a good part of my salary for a fine wine, I don't wish to be confronted by ugly surprises.
FIND OUT MORE …
Here are our ratings of the wines showcased on Monday evening. If you wish to get in touch with the vineyards participating in the Australian roadshow, get in touch with their wine-makers at these e-mail addresses:
Clarendon Vineyards – davidh@arhaustwineco.au
Our Ratings:
Clarendon Cabernet Sauvignon 1998: *****
Clarendon Shiraz Cabernet 2003: ***
Finniss River – traucki@chariot.com.au
Our Ratings:
Finniss River Shiraz Cabernet 2003: ****
Finniss River Big Red Blend 2003: ****
Kahlon Estate – grants@murray.net.au
Our Ratings:
Kahlon Estate Merlot 2004: ***
Kahlon Estate Shiraz 2004: ***
Kahlon Estate Cabernet Sauvignon 2004: ****
Kahlon Estate Petite Verdot 2004: ***
Leabrook Estate – cbest@leabrookestate.com
Our Ratings:
Leabrook Estate Pinot Noir 2002: ***
Leabrook Estate Cabernet Merlot 2002: ****
Paringa Wines – peterg@arhaustwineco.com
Our Ratings:
Paringa Chardonnay Semillon Sauvignon Blanc 2004: ***
Paringa Cabernet Sauvignon 2002: ****
Paringa Merlot 2003: ***
Paringa Shiraz 2003: ***
Perrinni Estate – adrew@freight-biz.com.au
Our Ratings:
Perrini Estate Shiraz 2000: ****
Perrini Estate Juliano Rosé 2004: **
Wisdom Creek Wines – moondog@wisdomcreekwines.biz
Our Ratings:
Moon Dog Acre Chardonnay 2003: ****
Moon Dog Acre Merlot 2003: ***
Moon Dog Acre Shiraz 2003: ***
Mong Dog Acre Cabernet Sauvignon 2003: ***