Union Agriculture Minister Sharad Pawar has exhorted the grape growers to experiment with new grape varieties and address the demands of the newly emerging retail markets and competition from foreign produce in order to survive, reports UNI.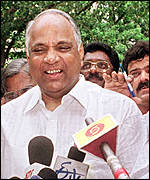 Speaking at the 47th convention of grape-growers in Pune on August 18, Mr Pawar said the revenue from export of fruits and horticulture products constituted only around Rs 210 million ( $ 5million), while soybean grown on far lesser tracts of land gave Rs 3,000 crore ($75 million) from exports alone.
He emphasised that presently, the cooperative concept may not work for the grape industry as it would be difficult to maintain and monitor standards in terms of quality and taste.
All India Grape Growers' Association president Sopan Kanchan said the industry is facing tremendous challenges from the retail markets as they are free to import anything, including foreign wines.
He overlooked to mention that the imported wines are subjected to 150% import duty and an additional 150% excise duty in Maharashtra where the conference was being held. Wines produced in Maharashtra are exempt from paying excise duty at least till 2011.
Various types are being brought into the market, therefore, a need for related products apart from wine, like juices, and different flavours in grapes are being researched.
Kanchan sought more concessions in interest rates on loans for the grape industry.
Source: UNI through Keralanews.com