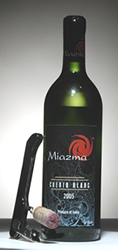 Globus Wines is launching new wines from Mumbai tomorrow. Labelled Miazma, meaning literally mist and haze, the brand 'has a ring of mystery around its name', says Karan Jain, Managing Director of the promoting company. Currently the range consists of the staple Nashik varietals: Cabernet Sauvignon, Shiraz, Chenin Blanc and Sauvignon Blanc. The company has designed its labels distinctively, backing their theory that art is closely linked with wine. Globus Wines is taking the non-traditional route in promoting the brand as a 'one of a kind' in the minds of the consumer. The company claims to have done ground breaking work for more than 2 years to produce wines that truly match the spicy foods.
'The strength and exclusivity of our brand Miazma lies in its sheer ability to present a taste that matches the spicy food palate', comments Karan Jain. 'It combines the Indian aromas beautifully to mesh with traditional Indian food that features the authentic Indian spices. Not only will it go well with Indian cuisine but also with all fare that has a dash of spice in it', he adds.
Global Wines has also tied up with India's largest research institute, the Grape Processing Research Institute, whose main objective is to build the country's winemakers of tomorrow, and enhance livelihood of the farmers. 'The collaboration will ensure that the mother unit providing machines, technology, laboratory, manpower remains profitable, and allow students and farmers to gain access to the demonstrations thereby helping them prepare for future,' says Karan. . ' It also gives us access to world-class equipments and local substance required to fuel growth in the near future, including very high quality grapes required for making premium wines'.
Miazma wines will be available in Mumbai at all leading retail outlets, between Rs 450 to 510 per bottle (Inc Taxes). The wine is priced competitively with Sula and Grover. Delhi , Goa and Bangalore are expected to receive the product by March 2007.
For more information, contact the company directly at info@globuswines.co.in or visit www.globuswines.co.in