Targeting a Rs 300-crore ($75 million) sales turnover by the end of the fiscal, the country's largest wine maker Champagne Indage has decided to revamp its distribution network and is planning to open 2,500 more exclusive outlets, reports Zee News.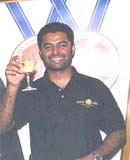 The managing director Ranjit Chougule said that the company, which runs exclusive outlets under the brand 'Ivy Bars,' had earlier announced the opening of 1,000 more such shops during this fiscal year. "We have plans to open more than 1,000 Ivy Bars across the country but looking at the response, we are planning to increase it to more than 2,500 bars across the country," he added.
Besides exclusive outlets, the company plans to enhance its presence through other retail channels.
"Our wines are available in 14,500 outlets across the country. By the end of this fiscal it will be available in more than 17,500 outlets," said Chougule.
Chougule said the company is not only looking at high priced wines but also cheaper ones as part of promoting wine culture in India. "We have introduced the label Vino which is priced at Rs 99 (€ 1.70) only. Thus, we are trying to bring the cost of wine to the level of beer," he added.
"Opening up of 'Ivy Bars' is also a step in this direction as these outlets will not only strengthen the distribution network of the company but would also work as centre to create awareness about wine drinking in the country," Chougule said.
The company has already tied up with big retails such as Reliance Fresh and Metro and is exploring the option of providing wine tasting sessions in retail outlets.
"With all these activities going at good pace, we are expecting 100 per cent growth in terms of the revenue and in by end of this fiscal, we are expecting a turnover of around Rs 300 crore," he added.

Source: http://www.zeenews.com