Òpera, a consortium of food and wine co-operatives in Italy plans to visit India next week to present European Excellence 2008, a programme of workshops and wine tasting, cheese and olive oil and culinary demonstration in Delhi and Mumbai, reports Subhash Arora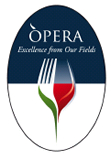 The programme is being held at Diwane-aam in Hotel Taj Mahal in Delhi from 10 am- 6 pm on May 12. Master Chef Giuliano Tassinari of Olive Bar and Kitchen, Expert Sommelier Subhash Arora, President of Indian Wine Academy, and Olive Oil and Cheese Expert Cristiano De Ricardis from Italy will conduct the relative workshops in cooking, wine and olive oil and cheese, according to Ms. Assunta De Cillis, President of the Opera Consortium, who is also the General manager of Cantine Due Palme.
A similar workshop will be held on May 16 at the same timings at the Crystal Room Central at Hotel Taj Mahal Palace and Tower, Apollo Bunder, Mumbai where Master Chef Max Orlati of Olive will take over from Chef Giuliano.
The food companies taking part are Conserve Italia, Alegra, Apo Conerpo, Clai, Cooperlat, Co. Sal, Naturitalia and Latteria Soresina which are fruits, vegetables and other food products. OL.MA sac – is a producer of Olive oil while Latterie Virgilio is a cheese and meat company.

Cantina di Soave, Cantine Due Palme, Caviro, Cavit, Chianti Geografico are the five co-operatives based in different regions of Italy that will present their wines for tasting at the workshops to be held at 12:15- 13.45 and 16:15-18:00 at both venues.

Opera is a consortium between co-operative agricultural enterprises and Italian food farming.

European Excellence is a campaign jointly funded by the European Union, Italy, co-operatives and companies working in the agro-food sector.
Programme Delhi Programme Mumbai Food Companies Wine Companies
Tasting Schedule(D) Tasting Schedule (M) Online Registration