Scrapping of Article 370 in Kashmir bodes well for Wine Industry
Tuesday 06: By all accounts, Article 370 in Kashmir will soon be scrapped after the constitutional formalities are completed and after initial resistance that might last for weeks, months or even more; denizens of Kashmir are expected to accept the new dispensation, paving way to new industries coming up and the better quality of wine that can be produced in the cooler climate region of Kashmir Valley, will be one of the realistic possibilities, say Subhash Arora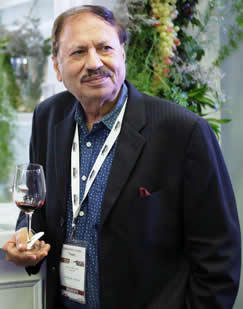 Ever since the Indian wine industry came into existence in the early 1990's in Nashik and around, as also in Karnataka, there has been one question in people's mind-are these best regions to cultivate wine grapes? In all such discussions, there has always been the issue of Kashmir valley being perhaps the best region for vineyards. There are some records about wine being produced there before phylloxera hit India in the late 19th century.
After the new phase of vine growing and wine making started in Nashik, known earlier for table grape production, India has been growing fast in the world, reaching 7th place in the world for grapes including table grape. But the soon-to-be approachable Kashmir Valley might well be the place for production of quality wines.
Kashmir Valley
The Kashmir valley is an intermontane basin situated in the western Himalayas, around Srinagar, running 150 kms northwest to southeast with a width of 40kms, surrounded on all sides by snow-covered mountains. It has a flat alluvial soil with an average height of 1850 m above sea level. The annual rainfall is around 700 mL which is good for vines in such adequate conditions. The summers get warm but not beyond 30°C. The coldest in summer is around 8-10°C giving a good day-night temperature difference and hence freshness to the grapes. With the global warming that is bound to affect Nashik and Bangalore in the years to come, making wines less fresh, this area is going to be even more premium giving interesting cool-climate grapes.
Beer Hops Production in the past
Historically, Vittal Mallya, father of Vijay Mallya of United Breweries Limited (UBL) grew and processed hops for the company's most popular brands in a village about 25 kms from Srinagar. UBL's beer got better acceptance in the market because of the excellent quality of hops. Of course when it was started in 1972 the permission of starting hops cultivation was given with the understanding that the beer brands made out of the hops produced in Jammu & Kashmir would not be marketed within the State.
With the onset of armed militancy in 1990s, hops cultivation abruptly stopped in Kashmir. The breweries/distilleries were reportedly burnt down. Some people who worked in the distilleries had to go into hiding. Interestingly, in 2009, during his visit to Kashmir, Vijay Mallya had hinted he would re-start hops cultivation in Kashmir. There were again riots and he had to give up the plan.
Wines of Kashmir Valley
Kashmir has had a history of wine making around the phylloxera period of late 1900's. A woman named Marion Doughty visited Kashmir in 1900 and wrote a book 'Afoot through the Kashmir valleys' (1901) where she wrote, "The Kashmir wines, too, are no longer to be despised, and their Medoc and Barsac are both strengthening and pleasant to the taste."
The government of the time and a few people in it were actively pursuing wine making. According to Walter Roper Lawrence, a historian and a wine writer, Raja Amar Singh and Diwan Amar Nath of that time were among the small number of Vineyard owners of Kashmir. But important decisions like the kind of vine to be imported were not taken carefully. Lawrence suggests vine from Burgundy would have been better suited for Kashmir in his book 'The valley of Kashmir' (1895), he had even suggested that vine from Burgundy would have been better suited for Kashmir.
Several other examples may be found in the wine history of that time to show that wine was being produced from imported vines with different success; this also included the legendary red wine from Shiraz in Persia.
Time to Pause and think
With the possibility of buying the real state soon will make producers want to look at the prospects of owning land and make wine in the near future. It would not be tomorrow, next week or next month. Once the formalities of the new status of Jammy and Kashmir becoming a Union Territory are complete, there will be a few astute producers ones who would like to experiment with the soil and micro-climate.
Of course, a negative factor could be the proximity to Pakistan, the neighbouring country that is expected to create trouble and try to destabilize the region even more. There would be elements within the State who, because of their religious aversion to wine might create some trouble as the locals did when Vijay Mallya proposed to grow hops for beer in 2009. Since industrialization is expected to gain pace, the laws are expected to be lax to encourage the industry. The prospect of making better quality wine in their own winery will be a big incentive for the producers in the expansion mode.
There are interesting times ahead for the Indian wine industry. One needs to wait and see how the scrapping of 370 pans out in the real world with a lot of uncertainties. Local political leaders are expected to go to Supreme Court due to its being a constitutional issue But like the Indian wine industry has a bright future, Kashmir Valley also has a lot to offer in the changed scenario in India.
Subhash Arora